Artist: @AmeliaAnnalisa
Q: Please introduce your work, and highlight your favorite aspects of the piece.
A: This drawing is a representation of Wilson's looming reign over our new protagonists. The thing I liked the most about this piece was representing the newly introduced characters and imagining what fantastic adventures they would go through. I particularly love "blue" Wilson. Unfortunately I still don't know the names of all these beautiful characters.
Winner's artwork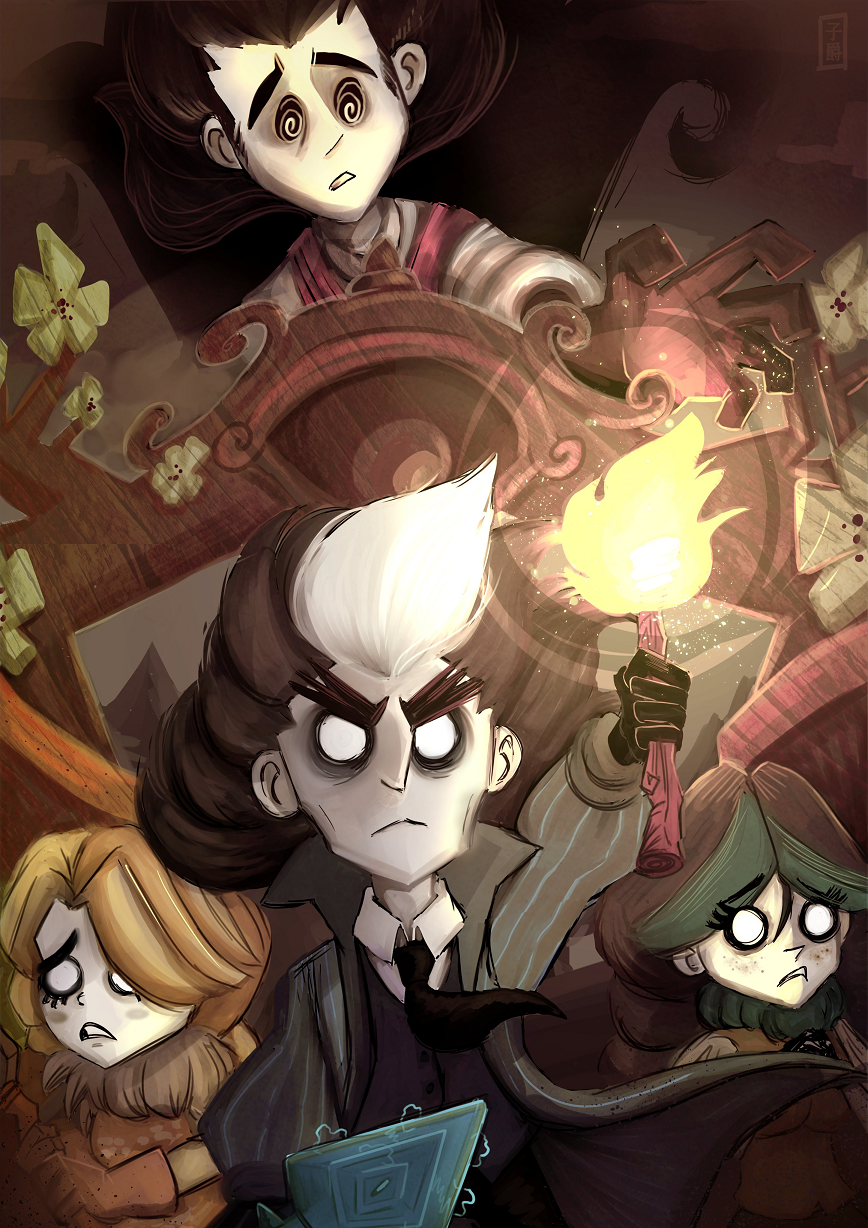 Q: How long did your DSNH art submission take you? Have you always been an artist?
A: This drawing took me 14 hours of work, I wanted it to be as beautiful as possible and to reflect what I had imagined this scene would be. I am an artist, yes. I graduated in 2D Animation and Illustration and my dream is to be a professional illustrator and make a living out of my drawings.
Q: Where does the inspiration behind your artwork come from?
A: I decided to include in this image the moments that struck me most in the DSNH reveal trailer. I've always been a huge fan of the don't starve storyline and loved the possibility that Wilson was on the throne and the consequences that would follow. Hence the name I decided to give the piece: Wilson's gaze.
Q: Can you talk about your experience with Don't Starve, what do you like about the series?
A: One of my closest friends gifted me a copy of Don't Starve Together as soon as she had the opportunity. I had only heard about this game until then. I fell in love with it after a few hours of gameplay. The artistic style and the story captured my imagination and soon I ended up playing almost every day. Soon I was composing drawings and animations on the various characters. I especially loved the special events of The Forge and The Gorge.
Q: Do you have plans to create more Don't Starve art? If so, what do you have in mind?
A: I definitely want to create more fan art and animations on Don't Starve! I have in mind a particular animation of Wilson who sings "Everyday a little death" from the musical The Count of MonteCristo for now I have only made part of the storyboard. Either way my inspiration will produce something for sure soon. I would probably also like to participate in the meme contest, I would love to produce one.
Q: In the future, what other contests would you like to see from Don't Starve: Newhome?
A: I'd definitely like to see a contest to introduce fan-designed skins for dresses and more. One maybe on creatures and bosses. Something non-artistic would be nice, something based on enigmas, in the old style Don't starve style.
Q: Please include anything else you'd like us to know about your artwork submission and about you.
A: This fanart gave me the chance to show everyone how much I love this franchise. Thanks to everyone who liked and shared my contest entry and saw the speedpaint video, you were all very kind and generous. I also want to thank the DSNH team for giving me this chance.It means a lot to me, I hope in the future to be able to collaborate with you again.
Thank you to everyone and Happy Winter festive!