Artist:@Francisco Laza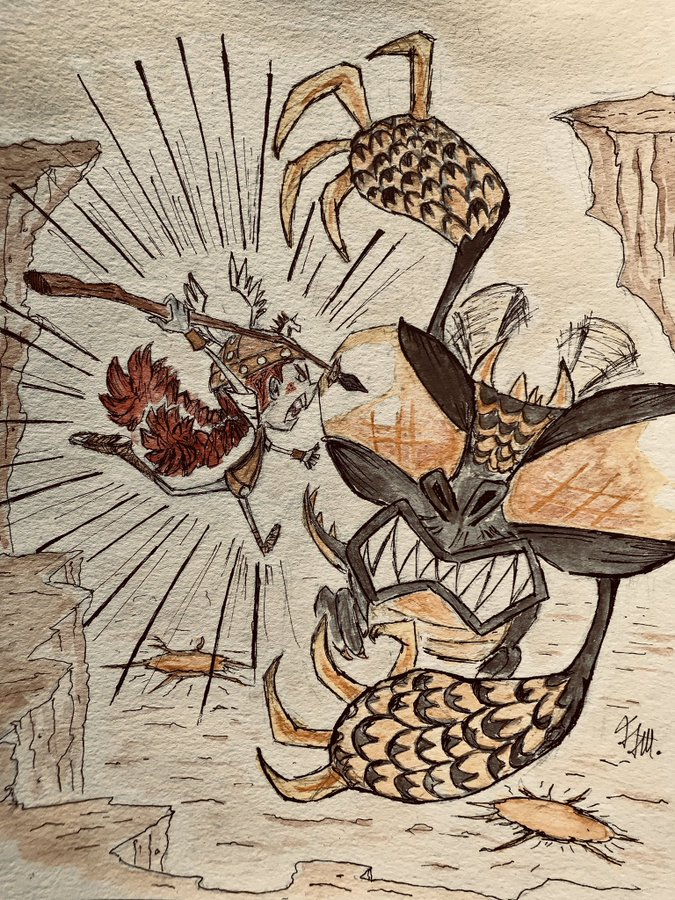 Q: Please introduce your work, and highlight your favorite aspects of the piece.
A: This is a traditional artwork, watercolors and ink, it's about the many epic moments we have within some game, in which you come face to face against an adversary stronger than you, but you feel more than prepared, you're not afraid of anything,
As Wigfrid is seen facing the Dragonfly heroically, the illustration exactly positions you in the battle scene.
Q: How long did your DSNH art submission take you? Have you always been an artist? A: It's taken me 2 days exactly to do it.
He's always given me to draw all the time, I kept it as a hobby, but right now I'm learning and I love doing this kind of work even more in watercolors.
Q: Where does the inspiration behind your artwork come from?
A: The inspiration comes from the epic moments the game has over the time you've been alive, and how excited you are to defeat some special mob.
Q: Can you talk about your experience with Don't Starve, what do you like about the series?
A: Absolutely everything from its gameplay to the smallest detail that its graphics have, I am fascinated by its style and the sense that gives the game, I have always wanted to imitate it and it does not give me very bad eh.
Q: Do you have plans to create more Don't Starve art? If so, what do you have in mind?
A: I have many plans, I am very fond of your style, I have social media pages where I upload my advances and my artwork. I plan to make comics, keep making illustrations and covers, even learning the art style that I now try to master, also try the full range of plastic arts
Q: In the future, what other contests would you like to see from Don't Starve: Newhome?
A: Comic book contest, character creation contest, items, lore, animation contest, etc.
Q: Please include anything else you'd like us to know about your artwork submission and about you.
A: I admire the game very much and will continue to show my artworks in the discord group and on my pages.